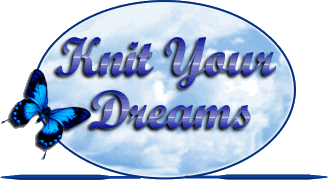 Yes!!! The shop is open!
New:
Just in from Berroco, Vintage DK, Remix Light, Suede, and Plush. Iím knitting shop models as fast as I can. Did you know that the Suede and Plush can be used to knit and crochet baby Uggs?
Clearance:
All Kraemer yarns including Perfection and Tatamy and DK weight Marble yarns are 30% off. (The percentage off will increase as time goes on. Get yours before itís all gone.)

All Susan Bates and Clover knitting needles are 50% off.
Send e-mail to knit@knityourdreams.com with questions or comments about this web site.
Copyright © 2003-2018 Knit Your Dreams.